VidiView at a glance

 
VidiView is a modern medical image management system delivering atypical features such as
Easy to use documentation tools
Smart telemedical video consultation
Intuitive OR video routing to all the monitors you want
User friendly review and post processing of documented images
Automated and manual archiving in a central PACS- and VNA-archives
This, and much more, is what VidiView will do for you in a beautiful, integrated and scalable eco-system! 
Read more
In modern healthcare performance, accuracy and security are central, general concerns and requirements.
All healthcare establishments using image producing equipment needs a solution to handle these images in order to make use of them, transform them into medical records and provide modern, safe and secure healthcare.
The complexity of the healthcare environment as well as the general workload grows continuously. Common treatments and related workflows and routines are evolving and gets adjusted to new science and technology all the time.
Growing demands on the healthcare provider runs parallel. Driven by a more educated, healthier population with higher demands and expectations on the service they expect from the healthcare provider.
The best way to meet these challenges is to create streamlined processes in all aspects of the treatment process. Distributed Medical have put a lot of effort into streamlining the image management process, making sure we can adjust to the image-based workflow your clinic should have today – and in the future!
That is our contribution to the future healthcare environment. VidiView – Medical Image Management 2.0
The VidiView eco-system
VidiView is a software-based solution consisting of 4 modules.
Each module fits perfectly in the medical imaging puzzle and is a vital part of the VidiView solution. Together these modules make up a perfect eco-system for medical image management in your organization.
The solution scales from a few examination rooms in a single clinic to 100+ rooms spread out over an entire region of hospitals and from 10 to 10.000 users. Grow with your needs and pay as you grow!
The solution runs on standard Microsoft Windows platform and the existing network, server and database infrastructure already present in your organization. Mobile apps run on any smart device based on iOS or Android.
Stationary image management
VidiView Controller
Mobile image management
VidiView Capture
Storing, managing and sharing images
VidiView Server
Reviewing and working with images
VidiView Client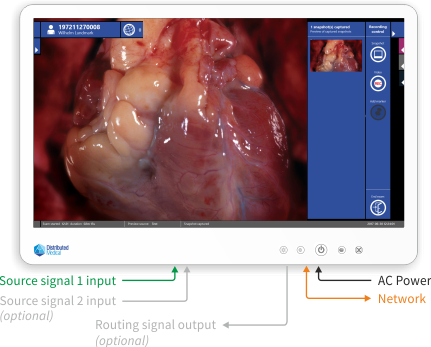 Patient management

(with MWL and PDQ integration)
Recording of video and still images
Routing of video inside the room
Telemedical conferences to outside of the room
It connects to the network in one end and the imaging equipment in the other end. You operate the Controller-units with touch or remote triggers from endoscopic equipment and foot switches.
The Controller features a smart recording mechanism enabling you to capture video super-effective. You can even record what has already happened – time-machine-style!
Read more
Often you connect 1 or 2 image sources, but complex environments may require more sources to document or route from. Choose from 1-6 video input channels to accommodate your specific need.
The VidiView Controller-unit is based on a medical-grade PC, a touch screen and built-in, specialized image acquisition hardware. It runs on Microsoft Windows 10 IoT. It is available in 3 sizes from 15" to 27" to fit most deployments.
Our integration philosophy is vendor neutrality and we always aim to incorporate as much compatibility as possible with common equipment present in the OR-space. Equipment such as video routing infrastructure, camera units, endoscopic equipment, lighting, info panels etc. easily integrate without special tools, hidden configurations or customizations.
The controller complies with common enterprise security models used in medtech and all information flowing between the different modules of the system is always encrypted.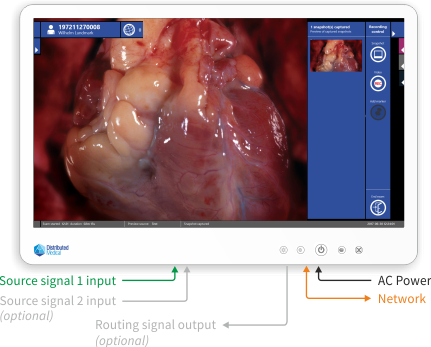 VidiView offers seamless integration towards external routing systems such as
EIZO CuratOR-units (both AV-over-IP and matrixes)
FSN-matrixes (IPS1000A and IPS500)
NDS-matrixes (ConductOR G2)
Barco Nexxis (MNA-1×0, MNA-2×0 and MNA-4×0-units)
With your routing equipment connected to and controlled by VidiView, it provides a user friendly, standardized and secure interface for all your visualization needs – regardless of equipment. The interface is integrated in the VidiView Controller-software, together with all the other medical image management functions.
Together these products combine high-quality infrastructure in the OR with workflow and smart medical image management!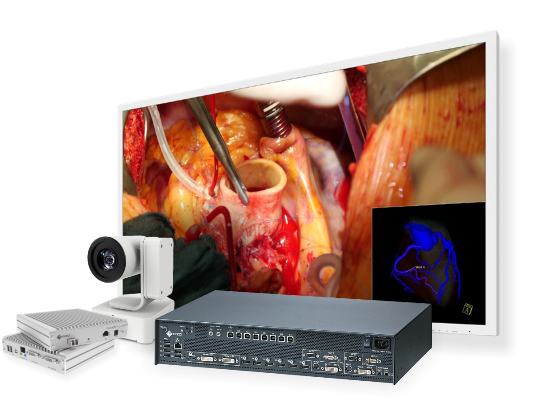 VidiView Client
The VidiView Client-application is a modern, intuitive and easy-to-learn, medical imaging workstation software. It is the window into VidiView-system from any computer on your network. It handles most image formats, up to 4K resolution and use modern resources (GPU, Intel QuickSync, webservices, HL7, etc.) to give you the best possible user experience!
Participate in examinations in the OR remotely
Reviewing your examinations  
Edit, post-process and annotate your examinations  
Import images from local media, local camera units (such as Canon EOS or GenICam-compatible units) or 3rd party PACS and VNA-solutions
Export to 3rd party PACS and VNA-solutions
Report back to referring physicians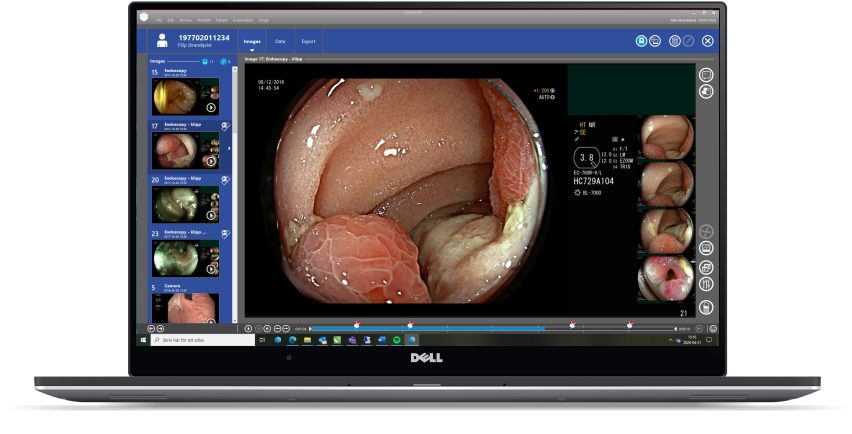 VidiView Capture
When a mobile imaging setup is needed, we believe the one item most people carry around all the time – your smartphone – is a fantastic tool! Modern smartphones have fantastic cameras, plenty of computing power and great touch screens!
With the right app the device is practically as powerful as any PC-computer. Hence, we set our minds on developing an app supporting typical medical imaging workflows for smart devices.
The app is centered around documentation of still images, video and audio with supporting features to make the use as clinically relevant as possible.
Read more
As mobile devices have grown increasingly powerful and "smart" we continuously expand our focus on mobility. Today we always try to put mobility and the ability to roam with the information at center of our focus and bring new meaning and use to your smart devices.
Thanks to the availability of WiFi, 4G and 5G networks around us – is it now possible to share information in a cost-effective and an instant way – everywhere! We believe in creating, producing, and supporting our own expertise and front-line technology in medical imaging whilst others (Apple, Google and Microsoft) produce the supporting platform technology.
The VidiView Capture app is developed for the sole purpose of supporting mobile medical image management. It is a modern, secure and intuitive apps – yet at the same time it complies with regulatory requirements and the security needed for medical information management.
It supports MDM-based distribution and pre-configuration. It support modern login models based on IdP services. It works great with VPN based network infrastructure and offers both online- and offline use seamlessly.
Your device is your tool
Most people carry a smart device around. With the VidiView Capture-app it transforms into a powerful medical imaging tool! Both Apple and Android-devices are compatible and secure.
User and data security
Integrated enterprise security all the way to your smart device. On to of this we put 2-factor security with biometric or PIN-enhanced login – your choice!
Choose your workspace
Each day – a new adventure. All your clinics automatically shows up when you login. Pick one and get to work!
Scheduled patients on a silver platter
If your clinic has a department worklist – you will see it. Pick your next patient and you are off!
When patient drop-in you pop-in
With no department scheduler you can manually enter or barcode-scan patient IDs and the system will retrieve the remaining patient data for you on the fly.
Check – check – check and GO
Once you have patient data loaded – from a scheduler or from a manual entry – you simply verify it and start your examination!
Point and shoot – stills or video
You work with the camera in much the same way as always. Smart zoom with one finger only and let the app guide you to correct rotation of your device. Zero learning curve for the everyday smart device user!
Anatomy is key!
For reliable and safe image documentation you may map images to the human anatomy. If needed you may also tag images with diagnostic coding. This makes way for smarter and more automated post processing!
VidiView Server
The server module is the center point of the solution. It ties all the other parts together and is the hub for all enterprise-wide integrations such as connection to PACS and VNA, worklists, HL7-services (PDQ, IAN, ADT, ATNA, etc.), the storage-solutions and your EPR.
The server is a Microsoft Windows server-application that runs on a virtual (or physical) Windows 2016 server (or newer) and relies on Microsoft SQL Server for data storage.
It provides a central GUI-based interface for configuration, maintenance and surveillance of the entire VidiView eco-system. It is well documented, intuitive to configure and completely open for the user organization to work with.
Software only (to be deployed on local virtual or physical server)
One server per deployment (hospital or region)
Provides image storage (often short term locally and long term in PACS/VNA)
Provides Integrations (such as worklists, PACS, EPR via HL7/IHE, Dicom etc.)
Enterprise security (authentication, authorization, roles, etc.)
Data management (department, exam templates, coding, checklists, etc.)
Central system oversight, logging and management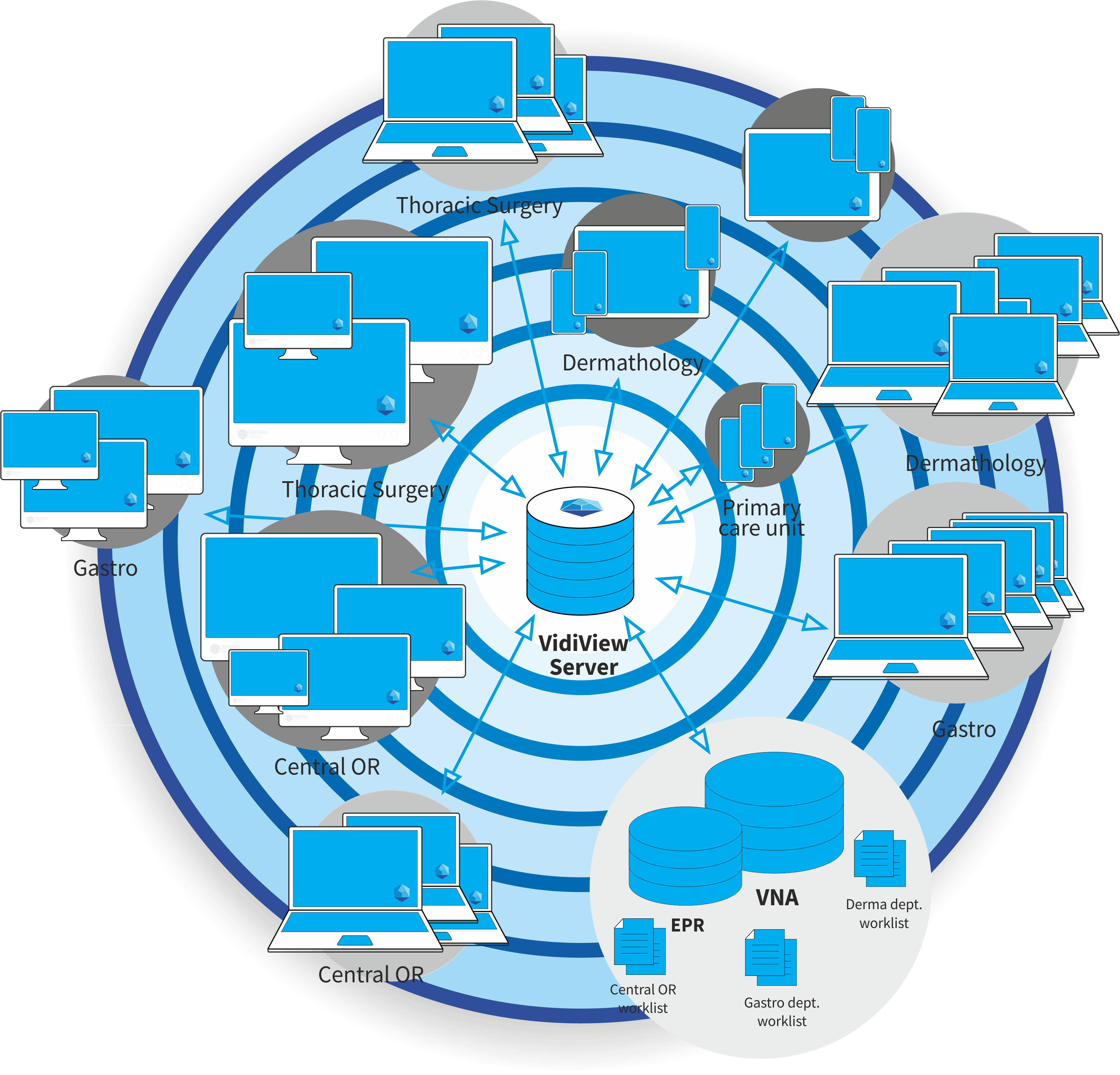 Do we want to tell you more about VidiView and what it could do for your organization or your needs? You bet!
In fact – we would like to show you because seeing is believing. And once you have seen what VidiView can do – we urge you to compare us to other image management solutions and challenge us with your extra-special-super-complex needs!
We are eager to hear from you – please get in touch!